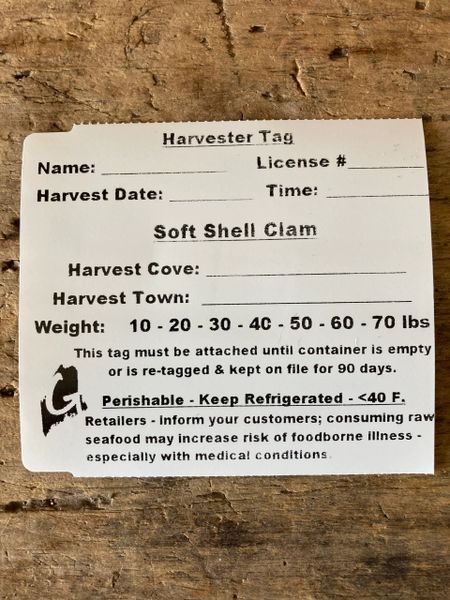 Shellfish Harvester Tags
Commercial diggers - are you tired of filling out your tags each day?
Get your own personalized tags by the roll in bulk and forget that tedious chore - 
Our custom shellfish harvester tags for commercial clammers, oystermen, mussel rakers - 

We custom print shellfish tags with the following details:
Digger name, license number, species, harvest area, town, and weights - all you do is add date & time
Circle the harvest weight and circle the cove and you are golden!
Save time and money by using our pre-printed tags - spend more time digging not writing

No more fussing with wet tyvek tags that are hard to label - ours are made of waterproof polypropylene and are easy to inscribe.
Call or email us for quantities of 500 or more for a price break.
Once ordered, reach out to us with your info and we will get you a proof for your review.
We guarantee you will love the convenience of these tags and never go back to the old style blank ones!
All orders get a tag holder with lanyard.  This is a great way to hold your tags on the flats, in the pickup, etc.